Road Assessment Program: Concept
The road assessment program (RAP) is designed to objectively grade the safety of roads in order to reduce the risk of traffic accidents. Similar to the new car assessment program (NCAP), which rates the safety of cars by awarding them a certain number of stars, the RAP uses a five-star rating system to rate the traffic safety of roads.
Road Assessment Program: Composition
The RAP is divided into two parts: the risk map, which is an objective risk assessment index based on accidents caused by three factors (people, vehicles, and roads), and the road protection score (ROS), which is an index that assesses potential road hazards on the section of road before a traffic accident occurred.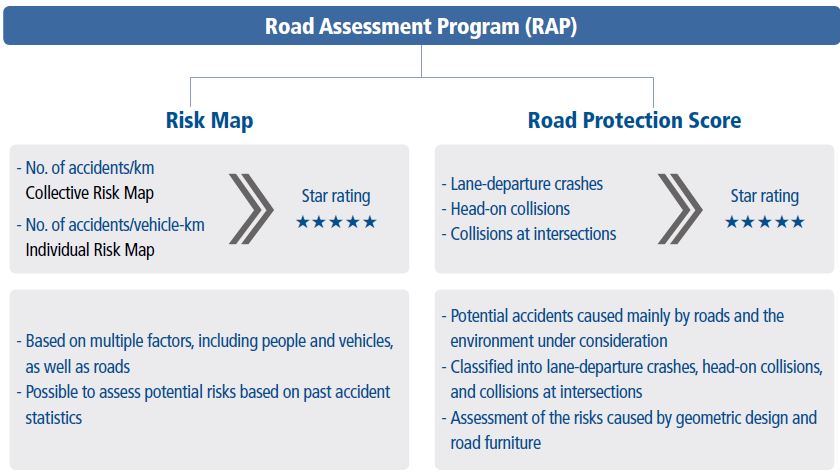 Importance of RAP
Traffic accidents can be caused by infrastructure as well. Although we assume that all roads are built in accordance with road design standards, these standards are the minimum standards for safety, not for accident prevention, which also explains the existence of accident-prone locations. Traffic accidents occurring frequently in some specific spots on a road implies that there is something wrong with the road structure, not the drivers. The RAP is essential for the objective assessment of road infrastructure risks.
Measures for the Provision of Public Transport Services in the Era of Automated Driving and Shared Public Transport
To find a model for autonomous driving and shared transport services that reflects the regional characteristics of each city and reforms public transport, it is important to introduce new technology on a trial basis. In this study, we have suggested a legal foundation that allows for the creation and operation of autonomous driving-based shared transport and public transport services in accordance with the Act on the Promotion of Smart City Development and Industry.
Large cities should use shared transport in areas where and at times when public transportation service is not available and introduce autonomous driving-based shared transport services designed to ensure that mobility disadvantaged people, including people with disabilities, seniors, children, and low income earners, all have equal access to mobility services.
In areas where public transport service is not readily accessible, such as remote agricultural and mountainous areas, shared transport should be actively utilized to ensure that local residents are able to exercise their mobility rights and enjoy higher levels of convenience. To that end, we have suggested various measures for easing regulations through the flexible application of the Passenger Transport Service Act as well as new standards for the management of transport platform projects. We have also proposed various policy ideas, such as incentives for self-driving car ridesharing designed to maximize the use of such vehicles and prevent an increase in single-occupancy vehicles, taxes on the use of autonomous driving infrastructure, and ways of securing financial resources for public transport operation, in preparation for possible changes to come in the future.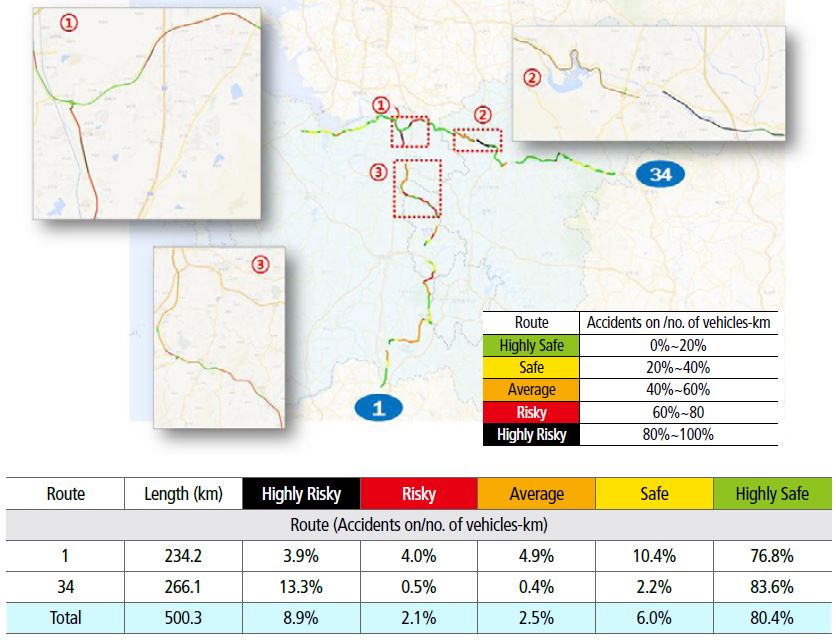 Accident Prevention Index Analysis: Case Study
An analysis of the accident prevention index of Route 19 shows that the road is highly risky because of its sharp turns, lack of median and shoulder rumble strips, narrow shoulders, and road furniture.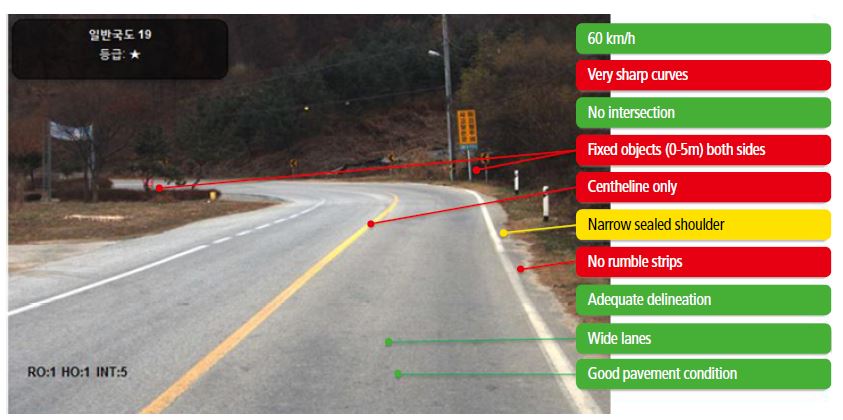 Importance of the RAP for Road Safety
It is imperative to draw up a five-year RAP implementation plan for the 13,983 kilometers of roads across the nation in order to increase road safety. The plan should be carried out each year by each Regional Office of Construction Management and updated every five years. To improve roads that were rated as below average on the safety assessment, it is important to carry out the RAP plan in conjunction with projects for improving accident-prone areas and repairing high-risk roads. In addition, it is necessary to establish a road safety management system in order to collect necessary data and incorporate the system with other relevant systems to ensure efficient operation. As Korea has yet to establish a solid legal foundation for implementing the RAP, we need to find ways through which we can establish such a foundation based on existing road-related laws and set up a plan for establishing a road safety assessment center that would ensure the effective implementation of the RAP
Han Sang-jin han@koti.re.kr
Eom Gi-jong eomkj@koti.re.kr